Correct use of Alfalfa DYCASA
More and more farmers all over the world know the dehydrated alfalfa advantages, replacing alfalfa hay by dehydrated alfalfa.To leverage these important advantages, it is crucial to follow two recommendations.

When preparing the TMR ration, it is essential to add the ingredients in the correct order in the mixer. Our alfalfa only needs around 3 minutes instead of the approximately 12 needed by sun-dried alfalfa. The alfalfa must be introduced at the end of the mixing process, not at the beginning.
It is very important not to make a sudden change. A gradual transition of about 10 days is necessary. Thus, the portion of dehydrated alfalfa increases up to 10% of the total each day.
Advantages of Alfalfa DYCASA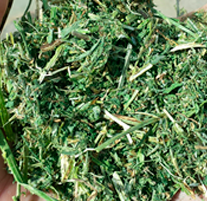 Better higyenic and
Phitosanitary Quality
Less waiting time on the field than sun cured alfalfa; less chance of contamination and alteration by rain. Having gone through a hot air flow , no insect, nematode have life and therefore eliminates the possibility of contamination.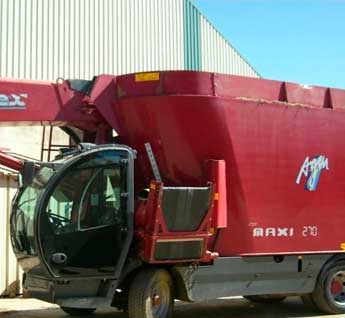 Less costs in the Unifeed,
more productivity
Our alfalfa only needs around 3 minutes in the unifeed instead of the approximately 12 minutes needed by sun-dried alfalfa. Less time is used to prepare the Total Mix Ration, so there is a much better productivity.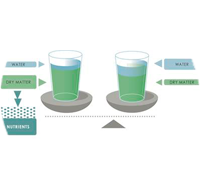 Less % of water,
More % of nutrients
Dehydration reduces water % so increments nutrients %. Our clients are saving money receiving. Apart from that the moisture is more homogeneous.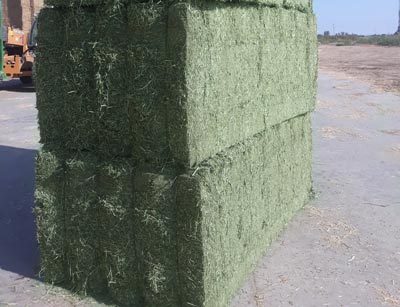 More
Durability
It can be stored for months or years without any microbial process is generated, keeping intact its nutritional qualities medium and long term.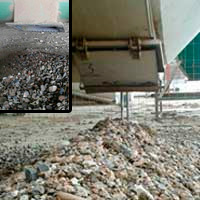 Double removal
of stones
DYCASA performs a double elimination of stones and other wastes, in two different moments of the process, to ensure the elimination of both big and small ones.
THE BEST TECHNOLOGY TO TAKE CARE OF THE ALFALFA
MORE THAN 55 YEARS OF KNOW-HOW
Our revolutionary raking system lifts the crop in order to transport it on a conveyor belt. We get alfalfa with more entire leaves, less sand and stones, and a greener colour.